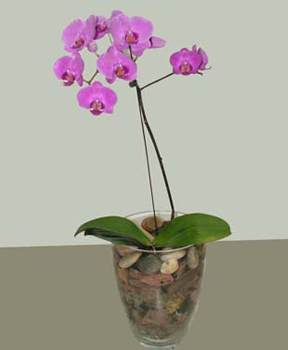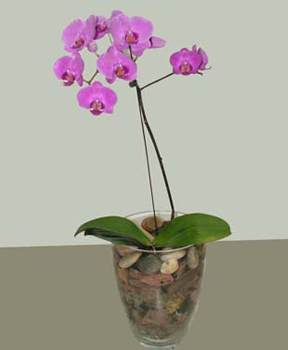 Product Details
Phalaenopsis is one of the most popular orchids in the trade, through the development of many artificial hybrids.
Phalaenopsis shows a monopodial growth habit: a single growing stem produces one or two alternate, thick, fleshy, elliptical leaves a year from the top while the older, basal leaves drop off at the same rate. If very healthy, a Phalaenopsis plant can have up to ten or more leaves. The inflorescence, either a raceme or panicle, appears from the stem between the leaves. They bloom in their full glory for several weeks. If kept in the home, the flowers may last two to three months after which a Phalaenopsis Orchid will need to conserve energy for further leaf, bud and root development.
In nature, Phalaenopsis species are typically fond of warm temperatures, thriving in temperatures around 20 to 35 °C (68-95 °F), but are adaptable to conditions more comfortable for human habitation in temperate zones (15 to 30 °C or 59 to 86 °F); at temperatures below 18 °C (64.4 °F) overwatering causes root rot. Phalaenopsis requires high humidity (60-70%) and low light of 12,000 to 20,000 lux. However, Phalaenopsis orchids can adapt to the lower humidity found in most homes. They are also typically hardier than other species of orchids, and this makes them particularly popular among first-time orchid growers.