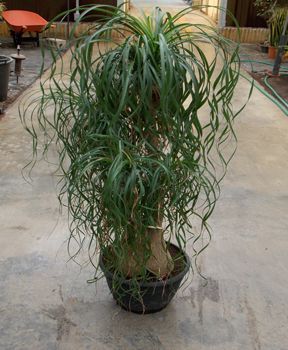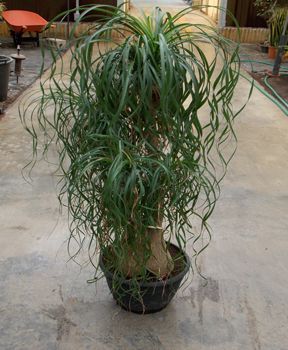 Product Details
Nolina is native to the dry regions of Texas and Mexico. It is an evergreen perennial growing up to 6m (20 feet) with a noticeable expanded caudex, for the purpose of storing water, this plant being able to store a year-long water supply in its bulbous trunk. The single palm-like stem produces terminal tufts of strap-shaped, recurved leathery leaves with occasional panicles of small white flowers.
It should be provided with bright light at all times, preferably with some direct sunlight. These plants will grow much more slowly if insufficient light is provided.
Normal room temperature, however variable, should be suitable at all times. The ideal temperature range for active growth period is between 10°C (50°F) and 24°C (75°F) and for the rest period between 4°C (39°F) and 18°C (64°F), but these hardy plants are quite tolerant of extremes and frequently thrive in conditions which are quite unsuitable for other plants.
During the active growth period allow the top few centimeters (one inch) of the potting mixture to dry out completely before watering again. During the rest period allow almost the entire mixture to dry out before watering.