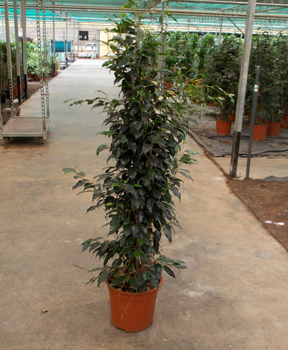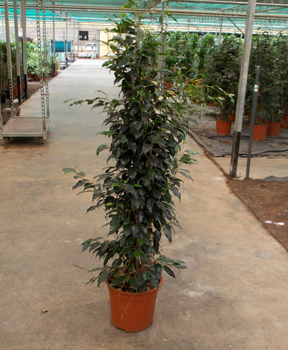 Product Details
The origin of the Ficus is from South-East Asia, you'll find this plant especially in Indonesia. He belongs to the family Moraceae (Moerbeiachtigen).
Give the Ficus a year-uniform ambient light, but avoid direct sunlight.
By sudden temperature changes may occur yellowing and leaf loss. Preferably put in a place with a high relative humidity. Give the plant water generously, but avoid too wet or too dry root ball, this also causes leaf loss. Regular spraying the plant or wipe with damp. Every year new potting soil promotes and extends the life of the plant. Possibly once every 2 to 3 years to repot.
If the ficus gets too big, you can prune the plant "the best in the spring or summer" with a trimmer, and stops the bleeding you can use the best wood ashes.
Care tips
Lots of light, not in direct sunlight.
Ideal temperature 18 – 20º C.
Keep damp, compost must not dry out.
No excess water in the pot / dish.
2x per month fertilize.
Annually about Pot on.
The Ficus is air purifying!
Do not like drafts.